SAFETY FOR HUMANS:
These chemicals are of special nature and formulations, which are registered for use in the houses and public places by W.H.O. (World Health Organization), EPA, Public Health Administration. These chemicals are safe for the environment and human beings. These chemicals are also odorless, colorless, non-irritant, highly effective and friendly for the environment.

At the Afghan Numu Pest Control Services Co. the people safety which includes project personnel safety & surrounding people safety is the first & highest business principle. At the start of the project and during the whole project life, we are calling and mentioning it "SAFETY FIRST". All our workers will be briefed about the project safety plan & policy. Project Technical Managers & Supervisors will check & ensure themselves of safe project operation at all time. Hopefully, all our workers are professionally trained for the safe use & application of the pesticides.
All our workers are aware of the dangers associated with chemicals used in the fumigation & spraying process.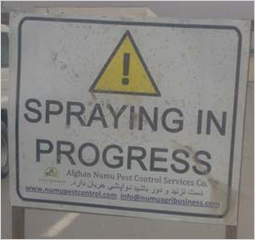 All our workers performing the fumigation & pest/rodent control services will be properly equipped with the necessary safety equipments as well as some medicines (ANTIDOTES). They will be also provided with specific uniforms, Goggles, Gloves, Safety masks & Rubber Shoes.
We'll also place safety signs & specific safety instruction for surrounding people before, during & after fumigation and pest/rodent control services in all areas. We'll use loudspeakers during the spraying phase when needed.